I'm back from my trip to Sapporo!

A picture of the 2013 Snow Miku sculpture!
This is now the 4th Snow Miku sculpture since the tradition started, and once again I got the chance to come by to the Snow Festival and see her! The kimono definitely gives her a slightly different feeling compared to the previous years, but it's still just as amazing as ever – the sculpting of the fringe and kimono sleeves is amazing – and the little snow bunny is so cute!
Anyway, the Snow Festival was amazing fun, but at the same time the Good Smile offices are bustling with activity for this weekend's WonFes!
Today I'll show a collection of photos of how the offices look at the moment, together with a few shots from Sapporo! (`・ω・´)ゞ

Only 2 days left until WonFes!!
Tomorrow the staff will be headed to the Makuhari Messe to start setting everything up! If I have the time, I'll try to do a twitcast of the setup – keep an eye out on my twitter for more info!
– Mikatan's Twitter –
https://twitter.com/gsc_mikatan (Japanese)
My WonFes product reviews can all be found here:

Also…
Most of the new figures on display at the WonHobby 17 booth will also be introduced on this special page!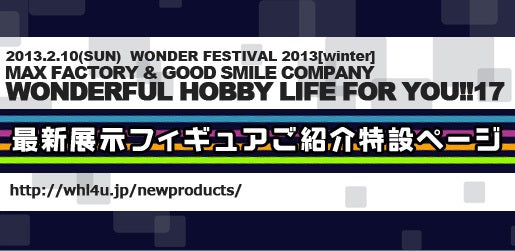 The page will open at about 9:30AM on Sunday!
Even if you can't make it to the event, you can still enjoy finding out about the latest figures!
– New Figures Page –
http://whl4u.jp/newproducts/

Anyway, that's all for today!
I hope to see you all at the event on Sunday!
I'll have a special blog up on Sunday at about 17:00!! (・∀・)ノ゛